Overview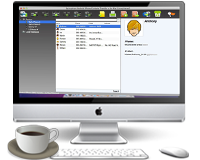 All-in-one Mac Contacts Transfer manager for iPhone/Android. No Jailbreak/Root required.
It's quite common that users own more than one phone at the same time but need to use different ones at different time or occasion. But do you know how to easily manage all contacts on all these phones and keep all contacts consistent with each phone's? Now with Backuptrans Android iPhone Contacts Transfer + for Mac, no worry or trouble any more. It's an all-in-one software suite for managing all your contacts data smoothly, solutions including iPhone Contacts to Android transfer, Android Contacts to iPhone transfer, Android/iPhone Contacts to Mac backup, restoring contacts from Mac to Android/iPhone, and viewing/exporting/printing out contacts on your Mac.
Backuptrans Android iPhone Contacts Transfer + for Mac can help you perfectly transfer contacts from Android to iPhone or from iPhone to Android. Simply connect both iPhone and Android to Mac, and it will do the left. Also, you can use it to transfer contacts between two iPhones or between two Androids. This is a great helper when you get a new phone. In addition, it makes it easy to transfer and backup contacts from Android/iPhone to Mac where you can view, export or print out contacts. Amazingly, you can easily restore the contacts backup back to your old phone or onto a new iPhone/Android phone. Besides, you can also choose to transfer contacts onto Android/iPhone from iTunes Backup if you once backup your iPhone data with your iTunes library. In this case, you can use our software to put contacts data from iTunes Backup onto your iPhone/Android phone smoothly even without your old iPhone. Lastly, Android iPhone Contacts Transfer + for Mac lets you easily and quickly export contacts into document files, including txt, csv, word or html, and quickly print out contacts from files.
File Format Support:
vCard, CSV, TXT, DOC, HTML, PDF
Device Support:
iPhone, iPhone 3G, iPhone 3GS, iPhone 4, iPhone 4S, iPhone 5, iPhone 5C, iPhone 5S, iPhone 6, iPhone 6 Plus, iPhone 6S, iPhone 6S Plus.
iOS 4/5/6/7/8
All popular Android phones with Android 2.0 or above are supported, including:
Samsung: Galaxy S, Galaxy SII, Galaxy SIII, Galaxy S4, Galaxy Note, Galaxy Note II etc
HTC: Desire, Desire HD, Droid Eris, Droid, Incredible 2, EVO 3D, Incredible, HTC One V, HTC One S, Sensation, HTC One etc
Motorola: Droid RAZR, DROID RAZR HD, Droid, RAZR MAXX, Droid X2, Milestone, Milestone 2, Milestone 3, Xoom, XT912 etc
Sony Ericsson: X10, X8, X8z, Xperia, Xperia Play, Xperia Ray, Xperia X10, Xperia X8, Xperia X8 E15i, etc.
LG: Optimus 2X, Optimus L3, Optimus Me, Optimus One, Optimus T, Optimus V, Optiums 2X, Optiums G, LG Nexus 4 etc.
The latest Updates:
Features
Backup iPhone and Android Contacts to Mac
Use innovative synchronization algorithms to help iPhone/Android users easily backup Contacts from iPhone or Android onto local database on Mac where they can be easily viewed, exported and printed. Even iPhone/Android with a broken screen supported also.
Restore Contacts from Mac to iPhone or Android
iPhone/Android users can smoothly copy Contacts from computer to iPhone or Android besides backup feature, either a new iPhone/Android or old iPhone/Android.
Transfer Contacts between iPhone and Android
Use innovative synchronization algorithms to help iPhone/Android users easily transfer Contacts between iPhone and Android on Mac. All contacts information will be merged perfectly. Even Android/iPhone with a broken screen supported also.
Restore Contacts from iTunes Backup to iPhone/Android
If you have backed up iPhone on Mac with iTunes, Android iPhone Contacts Transfer + for Mac lets you easily restore contacts only from iTunes backup back to your iPhone/Android with ease.
Transfer Contacts between iPhones, Transfer Contacts between Android Phones
Eaisly transfer contacts from one iPhone to another or from one Android phone to another. All the contacts will be merged perfectly. This is extremely helpful when you want to transfer contacts from your old Phone to new Phone.
Export Contacts to document file
Fast export speed and various common file types supported, including TXT, CSV, Doc, VCF, HTML or PDF. You can choose one according to your need. Additionally, you can also choose to export all iPhone/Android contacts out or just export the a certain selected contacts.
Add, Edit or Delete contacts from Mac
Satisfy all your management needs for your iPhone contacts. You can add, edit or even delete iPhone/Android contacts directly from Mac.
Print Contacts from Mac
This program realizes the possibility to print Android/iPhone contacts on Mac directly.
Import Contacts from Address Books
Import contacts from almost all Address Book programs including Outlook Express, Yahoo Address Book, Google Contacts, Thunderbird, Aol Mail, Hotmail, Windows Contacts, Apple Address Book, Fastmail, Rediff Mail, Mail.com, Loposte, Orange, Skype and other address books in format of .csv and VCard(.vcf).
Copy iPhone/Android Contacts to Address Book easily
Copy iPhone/Android contacts data in VCard format directly to other address books like Google Contacts, Yahoo Address Outlook, Windows Address Books and etc to enrich your contacts collection.
Smart Search and Filter
You can fast search contacts by entering contact name, phone number, keywords or even part of the contact data.
Clean and reliable
100% clean. Easy and safe to install and uninstall.
Requirements
Operating system - macOS X 10.7 - macOS 12 Monterey.
Processor - 64bit kernel processor.
Available HD space - 200MB free hard disk space or more for installation; RAM - 2GB RAM or more.
Printer must be connected to the computer for printing.
Buy Now
Personal Edition lets you manage Contacts for up to 3 different iPhones/Android phones for the price of one. Only download and install on your own personal Mac computer.
Family Edition lets you download and install on all Mac computers of your family and manage contacts for up to 8 different iPhones/Android phones in your family for the price of one.
(Unlimited devices - 1 Year)
A specially priced, benefit-rich bundle created for business professionals. It is a one-year license that lets you download and install on all your company's Mac computers and manage contacts for unlimited iPhones/Android phones for the price of one.